Labor Law Issues (for Clients)
For Corporate Clients: What Yamagami Law Offices can offer
We provide clients with professional services regarding Japanese Labor Law issues including disemployment(dismissal, discharge), layoff, overtime work (overtime pay), problematic employee, labor unions and other labor law disputes.
We are pleased to welcome you at our Tokyo and Fukuoka Offices located at Akasaka Crossing, Chuo-ku, Fukuoka, and at Roppongi, Minato-ku, Tokyo.
If any violation regarding the labor related laws happens, there is a danger that a substantial penalty may be imposed and you may be confronted with serious problems in operating your company. We have extensive experiences in this area and wish to welcome any consultation at a stage of even a small concern or question before the matter becomes a dispute.
You may encounter following matters: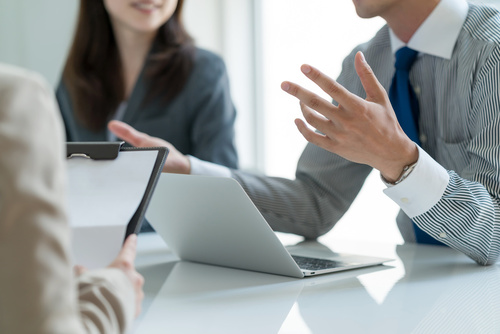 negotiation with the labor union of your company
change of the working rules
adequacy of overtime payment under Japanese labor law
demand of overtime payment by the employee of your company
dismissal of an employee of your company
occurrence of other troubles or disputes between the employees of your company
Practice Areas
(How to get overtime pay in Japan)
Our practice areas include following cases as examples.
litigation sued by an employee (including a claim for overtime pay, invalidity of dismissal and a claim for compensation etc.)
negotiation and litigation against an employee who violates his/her obligation (a duty of confidentiality etc.), harasses other employee, violation of Japanese Unfair Competition Prevention Act and commits a crime (theft, misappropriation etc.)
negotiation with an employee
negotiation with the labor union
advice on the work rules, minutes of a board meeting and other meetings
advice on holding a shareholders' meeting
advice on the salary/wage system
Secondary Opinion
While you have consulted with a lawyer, you may wish to seek the secondary opinion and we will be pleased to provide you with the same.
Notice
Your use of this site is governed by the laws of Japan and any dispute arising out of or in connection with the use of any information or materials from this website shall be subject to the exclusive jurisdiction of the Tokyo District Court in Japan.
Our services shall be provided in Japan only.
We do not guarantee any courts or any authorities make decisions same as this website. We do not assume and accept any responsibility or liability regarding this website.
Contact us
Yamagami International Law Offices
【Tokyo】Roppongi Denki Building 7F, 6-1-20 Roppongi, Minato-ku, Tokyo 1060032, Japan
【Fukuoka】Koenoki Building 4F, 1-3-14 Maizuru, Chuo-ku, Fukuoka 8100073, Japan
Tel +81-92-739-2388